On Wednesday, September 28th, Hasbro encouraged families to unplug and spend any evening of togetherness around their favorite board games.  While September has come to a close, we choose to implement Family Game Night every Friday night in my home.
Both of daughters are huge fans of board games and puzzles.  But because they are 3 and 6 years old, it can be a challenge to find a game that they both enjoy.  Very few games can accommodate a child who reads and one who doesn't…..except Scrabble Alphabet Scoop!
We were sent this Hasbro game to try during one of our own Family Game Nights and instantly fell in love!  Traditional Scrabble tiles are piled into a plastic pot (with included lid, four spoons and even two flies) setting the scene for a great game.  Each player picks a card which contains several words…some easy and some hard.  The players announce which word they will attempt to spell and all at once, the players dive in the "soup" with their spoons and try to be the first to spell the word.  Once the word is spelled, close the lid and be the first to shout "YUMMY!" to win the round.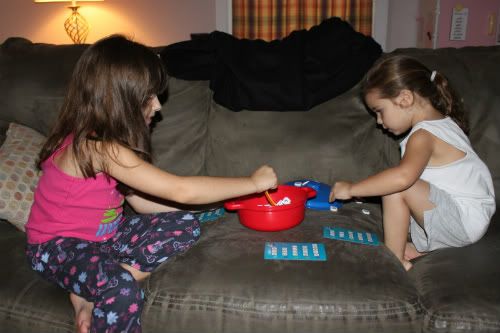 While my youngest can't read, she does have letter recognition and was able to successfully find the letter and match a word.  This was great because she was able to play this game "all by herself" which is VERY important to a three year old!  My husband and I always chose to spell the longer, more difficult words in order to even the playing field.
Scrabble Alphabet Sscoop is now one of our favorite family games!  I would definitely recommend it for your holiday list!  Don't miss any of the action by following Family Game Night on Twitter and Scrabble on Facebook.
This post is the opinion of the Experimental Mommy.  Others may have a differing opinion of the product.  While a sample was received to facilitate this review, all opinions remain 100% mine.