With two young daughters, sometimes going out and enjoying a nice meal together can be challenging.  There are long wait times, "different" foods, and little entertainment for kids.  We expect them to sit quietly and use their manners for well over an hour on some occasions which admittedly can be difficult for any child (even me!).
I do not allow my children to bring electronic toys into a restaurant, so I usually have crayons and paper on hand.  My kids love to draw, but even their favorite glitter markers get old after about 30 minutes?  In my constant search for "quiet activities", I came across Find It Games last Christmas.  I purchased the Find It Glitz and Glamor game (it's pink and purple, after all!) and my daughters absolutely love it.  About Find It Games: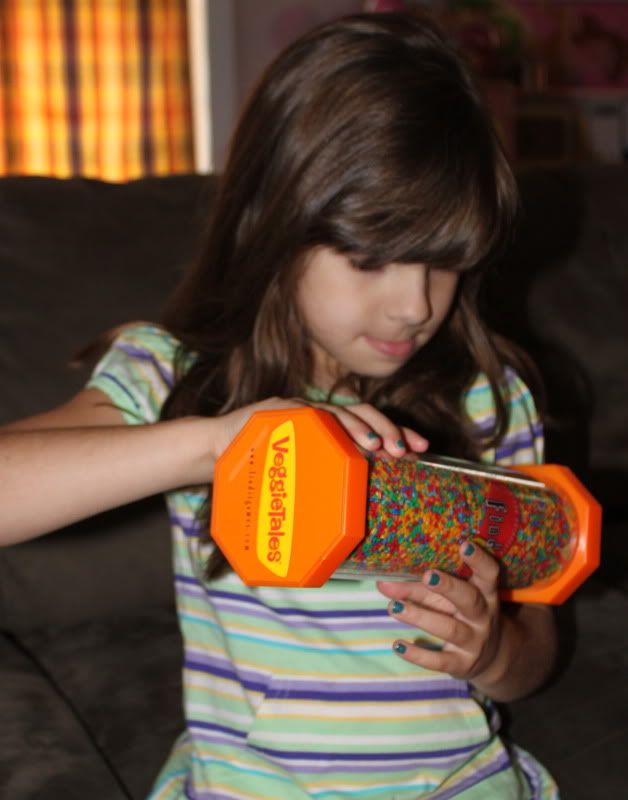 "A creative game that never needs to be put away. Find It is ideal to play anywhere: at home, in the office, in your car. People of all ages will enjoy the hunt for the hidden objects buried within the layer of recycled plastic pellets. Alone or with friends, everyone will enjoy spinning it, shaking it, and twisting it until all the objects are found."
Basically a handheld scavenger hunt, my daughters loved to take turns shaking the games and looking for the object listed on the container.  At a recent family dinner, we actually passed the game around the whole table until all the object were found!  My daughter who is 3 all the way to my Dad (or Pops as we call him) loved playing the game.  So, I was thrilled to hear that Find It Games unveiled a Veggie Tales version!
We decide to take the Veggie Tales Find It Game on a Summer car trip.  It was the perfect activity to keep the kids occupied for a while hour!  Both of my girls are familiar with Veggie Tales (the videos are shown at their school), so they couldn't wait to find the Bob the Tomato or Junior Asparagus hidden in the colorful pellets.
Find It Games can be found in national retailers such as Barnes & Noble, Borders, Hallmark, Target, Bass Pro Shops, Cabela's and Christian book and gift Stores. I am looking forward to seeing what Find It Games has in store for the upcoming holiday season.  Most games retail for about $25, so they will definitely be on my Christmas list this year!  Become a Fan on Facebook to keep up on the latest news!
This post is the opinion of Experimental Mommy.  Others may have a differing opinion of the product.  While a sample was received to facilitate this review, all opinions remain 100% mine.