How many times in a week do you hear the question, "What's for dinner, Mom?"  More than you care to count?  Because my husband and I work outside the home full time, dinner can be a challenge.  We try to plan meals in advance, but with my two girls' growing schedules (dance, girl scouts, birthday parties), life can certainly sneak up on us.
Sometimes, a fast food meal is inevitable, but it sure would be nice to have something different.  Fortunately, Zea Rotisserie and Grill is catering to the family on the go with their new Family Bundle and Catering options.  Zea is helping to "Feed your Hungry Bunch" with a tasty package which feeds four to six people and is available for pickup for just $34.95.  The to-go creation includes a whole rotisserie chicken, a slab of slow roasted ribs – Hickory sauce, Dry Spice Rub or Thai style – and two pints of sides. Chicken lovers have the option of adding a special sauce such as Zesty Barbeque, Garlic & Herb or Sweet & Spicy for an extra dollar.
A few days ago, I forgot to defrost the dinner we planned on eating that night.  Fortunately, Zea came to the rescue.  We tried the Hickory ribs, chicken, corn grits (my favorite) and dirty rice.  My car smelled incredible as I drove home…..my family is lucky that I didn't pull over and hoard the food for myself!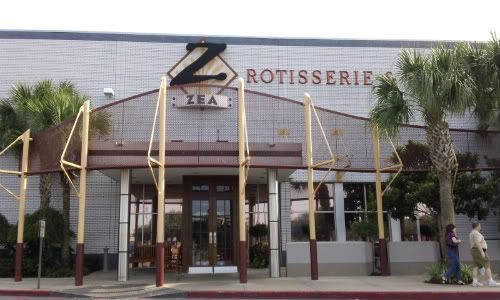 As soon as I arrived home, my kids and husband couldn't wait to try our Zea Family Bundle. Each of us had a plate full of chicken, ribs and two sides and loved it all.  The best part?  Leftovers!  We had enough left for another small lunch the next day. I would definitely consider purchasing the Family Bundle for future hectic nights as well.
Don't worry football fans, Zea didn't forget about you! How about cooking some Thai Ribs at your next tailgating event?  Zea's Thai Rib Kit takes the labor out of cooking while still providing a savory meal or tailgating treat. Zea Rotisserie & Grill slowly cooks the ribs in advance, so all the chef has to do is pour on the sauce, put the ribs on the grill for about 15 to 20 minutes and sprinkle on the fresh Asian herbs to create Zea's award winning signature ribs. The kit costs $33.95 and includes two slow-roasted, ready-to-grill racks of ribs, sesame seeds, Asian herbs, a bottle of Zea Thai Rib sauce and instructions. Geaux Saints!
For your next meal, make sure you check out the options at Zea Rotisserie and Grill and find a location near you today! Don't miss any of the action, become a Fan on Facebook for the latest news and specials.
This post is the opinion of the Experimental Mommy.  Others may have a differing opinion of the product.  While a samples was received to facilitate this review, all opinions remain 100% mine.