One of my dieting downfalls is that I always crave something sweet after a meal.  I can do fabulous all day, but at bedtime it is very hard not to reach for a cookie….or cookies. Fortunately, I was recently introduced to Nonni's Biscotti Bites, a smaller (but just as tasty) version of the traditional Biscotti, which has only 4o calories making it a perfect after meal sweet treat. 
This new product from Nonni is delicious, made with all natural ingredients and is light and crunchy in texture.  The flavors include Almond Dark Chocolate, Caramel Milk Chocolate and Classic Almond which all come in a durable bag keeping the snack fresh and perfect for an on-the-go Mom like myself.  My favorite was the Caramel Milk Chocolate which is described as, " light, filled with sweet creamy caramel and dipped in gourmet milk chocolate." Hello? What's not to love, right? Biscotti Bites come about 24 in a pack and retail for $3.49-$3.99 and can be found at stores such as Sam's Club, Winn Dixie or Costco.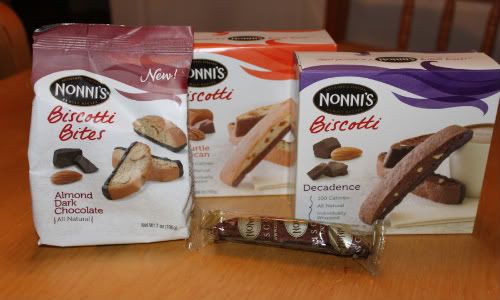 I also love the traditional Biscotti cookie in Turtle Pecan.  The snacks, which sport new contemporary packaging, are individually wrapped making it a bit easier to have self control and stopping at one cookie.  The gourmet cookies are now more accessible, portable, and easy to eat without the mess.
On Facebook, Nonni's Biscotti encourages it's fans to take a break and enter The Great Biscotti Break Giveaway for a chance to win daily, weekly and monthly prizes!  Each entry is entered into the Grand Prize drawing for a chance to win a trip for two on an Italian getaway to Rome, Florence and Lucca, the city where Nonni's Biscotti originated. I, for one, am dying to go to Italy!  Entries will be accepted through December 31, 2011 .
Looking for a perfect treat for the upcoming holidays?  Check out the Pumpkin Swirl Biscotti recipe!
This post is the opinion of the Experimental Mommy.  Others may have a differing opinion of the product.  While a sample product was received to facilitate this review, all opinions remain 100% mine.