There are many reasons why I love my Mom.  She is kind, generous, and a great listener.  Another reason?  She has amazing skin!  I am hoping that I inherited those genes, because her skin is still flawless and beautiful.  Fortunately, I didn't have many inherited skin issues as a teenager but my Mom instilled good hygiene and taught me to protect my skin.  Now that I have two daughters, I want to do the same for them.
Apparently, I am not alone!  Deborah Hernan, a mother of a tween girl and former executive with Revlon, noticed the lack of products to promote skin care and personal hygiene for girls ages 7-14.  So, like any SuperMom would do, she created a natural skin and hair care line, Ottilie & Lulu, in 2009.  Her product line took off quickly and grabbed the attention of Seventeen Magazine's Style Blog and Discovery Girls and the rest is history!
I was very excited to receive two items, the Ottilie and Lulu detangler/conditioner as well as face wipes, to try with my (almost) 7 year old daughter.  All of the products in the Ottilie and Lulu line are created without parabens, phthalates, sodium lauryl sulfates, mineral oil or petroleum by-products and instead offer the following which are more nurturing to a young girl's skin:
Anti-oxidants for protection against environmental stress
Vitamins, Wheat Protein and Jojoba Protein to keep young skin nourished and healthy
Chamomile Flower, Lemon Extract and other Botanicals that soothe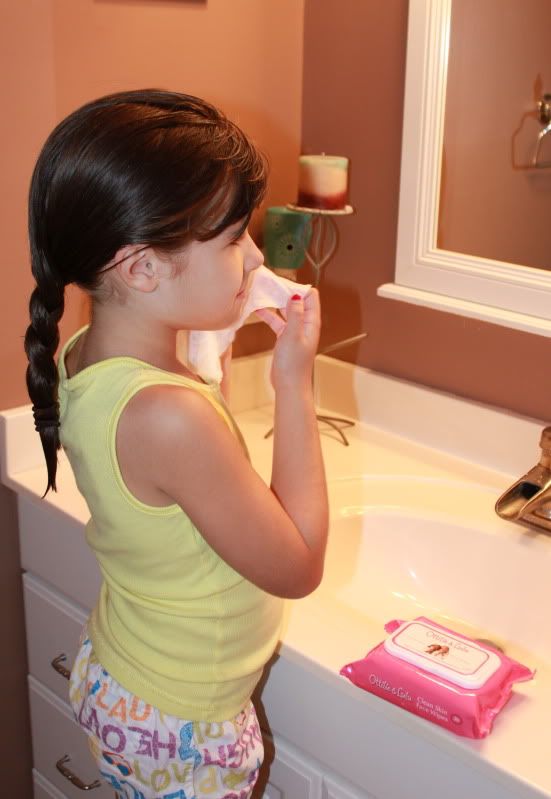 We first tried the Detangler/Conditioner and loved the way it smelled…very minty and refreshing!  It was thick and creamy and worked the knots out of my daughter's hair well leaving it silky smooth.  After a long day at dance camp, she wanted to try the face wipes when she returned home to clean her face.  I didn't notice a scent on the wipes and my daughter loved the way they felt on her skin.  There is no need to rinse after wiping clean with the face wipe, so she could do this all by herself.  The experience was a great opportunity for me to talk to her about skin care and why it is important to take care of herself!
Would you like to try Ottilie and Lulu?  Through July 31st, you can use code OLFREESHIP when ordering Ottilie & Lulu Everyday Facial Moisturizer & Sunscreen SPF 20!
GIVEAWAY
One winner will receive the following:
Ottilie & Lulu Shiny Silky Detangler & Conditioner: This creamy Detangler & Conditioner is great for everyday use on all types of tween hair. Leaves hair looking beautifully shiny with the fresh, clean scent of wild mint. Perfect to add to the beach bag. Apply a small drop before swimming in the ocean or pool to protect hair and then rub through hair after swimming to make it easier to comb through knots. Price: $14.00 Size: 8 fl oz/236.5 ml
Ottilie & Lulu Clean Skin Face Wipes: Clean Skin Face wipes are specially formulated for tween skin (no salicylic acid) and are the ideal way to help her keep her beautiful, clear skin. The very light scent of rosewater will leave her feeling refreshed. Everyday, twice-a-day, both in the morning and at bedtime, girls can gently wipe skin with a face wipe. These wipes are also ideal for girls who want to freshen their face with after sports or any exercise. Price: $10.00 Size: 30 Wipes
How to Enter:

1. Tell me another Ottilie and Lulu product you would love to get for your daughter!
Additional entries:
1. Blog about this giveaway and link to The Not-So-Blog and Ottilie and Lulu (10 extra entries).
2. Follow me (@BridgetteLA) and @OttilieandLulu on Twitter and Tweet this giveaway. Every time you tweet you get an additional entry! Limited to 10 a day, please. (You must have over 50 Twitter followers to qualify for unlimited entries!)
3. Subscribe to my blog.
4. Become a Fan of The Not-So-Blog and Ottilie and Lulu Facebook.
5. Place my blog button on your sidebar.
Contest ends at 11:59pm CST on July 29th.  Prizes not claimed in 72 hours will be forfeited. Open to U.S. Residents only.
This review is the opinion The Experimental Mommy. Others may have a differing opinion of the product.  While a sample was received to facilitate this review, all opinions remain 100% honest.