The first thing my daughter asks for in the morning when her eyes open is a PopTart followed closely by her favorite tutu.  A princess at heart, she would wear a tutu all day long if I let her!  So when her birthday rolled around, I knew that she needed an extra special tutu to celebrate the occasion.  Whenever I need a product recommendation, I head to the Internet to poll my friends and fellow review bloggers.  Fortunately, my friend Kate at The Shopping Mama highly recommended The Funky Bee.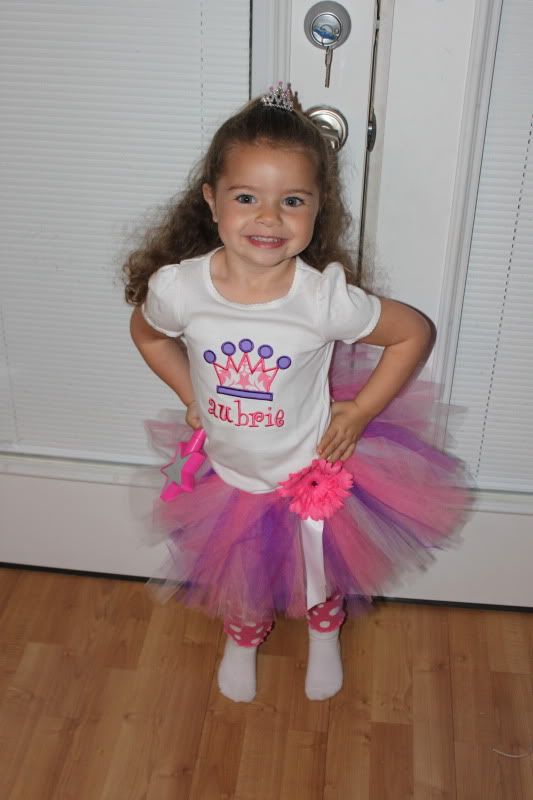 As I started perusing the online boutique, it was love at first sight!  The designs, the colors, the accessories, the tulle….I knew my almost three year old would be in heaven.  I mean, how cute is this personalized cupcake tee and tutu?  After much debate, I finally decided to go with the Tiara Tee and Tutu for my beautiful birthday princess.
When the outfit arrived, I was so excited to show Aubrie.  The colors were beautiful, the quality of the tee and personalization was first rate, and the tutu was very full (they only use high quality 100% nylon tulle).  In fact, my daughter actually squealed in delight as she laid eyes on this tutu!  As luck would have it, her daycare had a Mardi Gras parade on her birthday.  We decorated her wagon and made her a true birthday princess wearing her new outfit from The Funky Bee.
Do you have a tutu worthy occasion coming up?  At The Funky Bee, you can customize your handmade tutu by selecting just the right colors, adding ribbons and accessorizing with flowers.  Is your little one more of a superhero and less of a princess?  Check out the adorable Little Hero Capes!
Don't miss any new creations at The Funky Bee!  Follow them on Facebook to stay up to date!