In my recent quest for the perfect birthday outfit for my three year old, I ran across the most adorable leggings for my six year old daughter.  As soon as I saw the personalized leggings, I knew that she had to have them!  She is always looking for ways to add sparkle to her wardrobe (who doesn't love a little sparkle?) and Paper Lili definitely fits the bill.  About Paper Lili:
"Ever since I was a kid, I have embellished, painted and altered anything and everything I can get my hand on.  Brights, pastels….anything goes.  They make me happy, and through paperlili, I hope they will have the same effect on you.  The name paperlili is a combo of my two princesses.  They are both my biggest fans and critics…if I make a blanket that they instantly want to hug, I know I am onto something.  If I make a skirt that is uncomfortable, they  tell me….immediately.  Because of this, everything is kid friendly and mom approved."
There are many fabulous items at Paper Lili, but the thing that caught my eye first was the personalized leggings.   What a cute way to make an everyday article of clothing unique!  I ordered a pair of black leggings with the name "Lily" on one leg.  They arrived quickly and totally lit up my daughter's eyes when we opened the package.  "It says my name!!" she exclaimed as she began to put them on.  The fit true to size and were incredibly soft.  The stones are impeccably placed and were in beautiful colors.  You also have the option of specifying which color you want for each letter or letting the designer work her magic.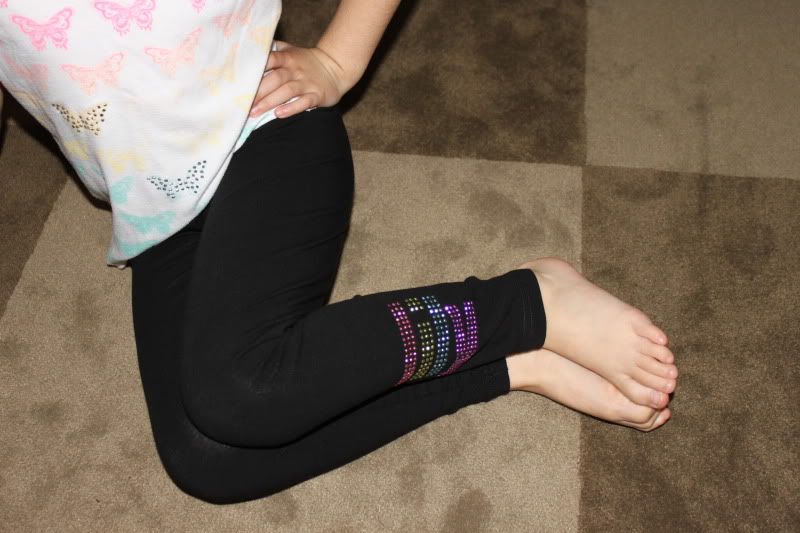 If you are expecting another baby, you totally have to check out the big sister/little sister shirts!  I know my daughter would have loved to wear one of these to the hospital!  And Moms need a little sparkle too, right?  I definitely want this shirt for our next trip to Disney!  Paper Lili doesn't forget about the boys.  They have designed the most adorable, I mean manly, shirts for boys, too!
When I feel the need for some extra bling, I will definitely turn to Paper Lily again!  Don't miss any specials or sales!  Make sure you follow Paper Lili on Twitter and Facebook!