Price Pfister faucets will give my kitchen and bathroom a mini-makeover which is much needed after Hurricane Katrina!
One Price Pfister Hanover Pull Down kitchen faucet, one Price Pfister Ashfield bathroom faucet in brushed nickel, and two rooms in need of a facelift.  About the Price Pfister:
"Not only do we design and manufacturer the most stylish kitchen and bath faucets, fixtures and accessories in the world, but we back them up with a lifetime guarantee on their finish and function. This guarantee promises that your Pfister product will be free of defects in material and workmanship for the life of the product.
At Pfister, we are continually exploring ways to improve our products so they meet future eco-friendly standards, are more user friendly in terms of installation, incorporate the latest technological advances, are ergonomically superior and reflect the latest trends in design and style. We also want to continue to find new ways to make our products more affordable without compromising our high standards of quality."
In 2005, my home succumbed to the wrath of Hurricane Katrina taking in some water.  Fortunately, we had flood insurance and were able to repair most of the damage.  I few things were not covered and we had to decide how to prioritize the repairs.  Kitchen and bathroom cabinets were a necessity, but counter tops and faucets were not.  With fresh new cabinets in place, the old faucets stuck out like a sore thumb.  So, I was thrilled when Price Pfister asked us to review two of their faucets.
For the kitchen, we chose the 2 hole Hanover Pull-Down faucet in stainless steel.  I have not previously owned a pull down faucet, but have heard that they are great for sinks that are not very deep.  The pull down feature allows me to place a pot on the counter top and fill it easily.  The anti-splash feature with spray volume control is wonderful as well.  With my old faucet, the hose was either on or off with no in between!  The Hanover also comes with a soap dispenser which I love.  This looks so much cleaner than a bottle of hand soap on the sink!
For the bathroom, my husband and I chose the Ashfield single control faucet in brushed nickel.  The style of our bathroom leans to country, so this "pump-like" faucet fits right in.  I can't tell you how much I love this faucet.  The style really finishes the bathroom and makes it look much better.
My husband took on the task of installing both faucets.  I figured it would take the greater part of a day and would probably include a fair amount of frustration.  However, I am happy to report that the faucets were BOTH installed in just over an hour with absolutely no confusion or irritation!  He did a beautiful job and actually had a few adorable helpers!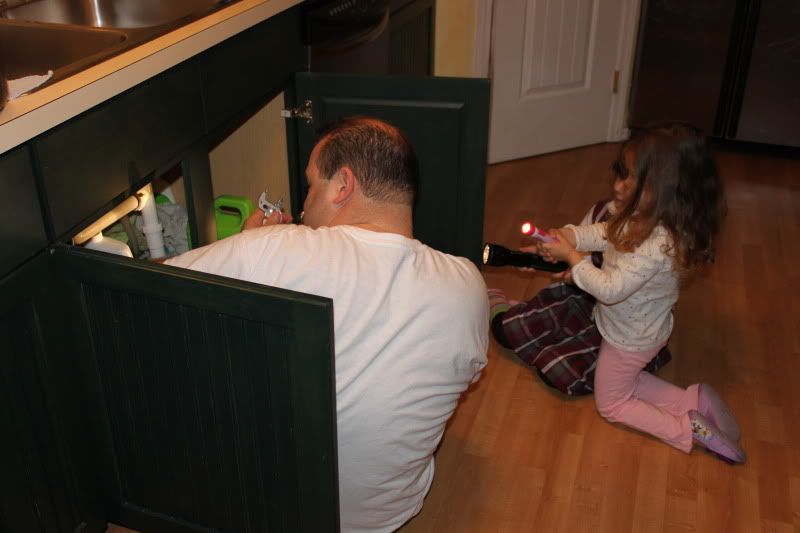 My Mom, who is a Realtor, always says that you should invest in upgrading your kitchen and bathroom to get a great return.  I feel that the Price Pfister faucets give our rooms a step up and will definitely catch the eye of any buyer should we decide to sell in the future.
The Price Pfister faucets are a welcome addition to both our bathroom and kitchen.  They are both beautiful and functional and were very easy to install.  I would definitely seek out this brand in the future!
Buy It: Price Pfister faucets can be found at Home Depot, Lowe's and Amazon.com.  Prices vary by model number.
GIVEAWAY
Could your kitchen use a face lift?  One winner will be able to chose the one of the following faucets:
Elevate™ EXT (latest launch from Price Pfsiter! This is the first adjustable height standard kitchen faucet available at retail!) Finish: Stainless Steel, Configurations: 1,2,3, or 4 hole with soap dispenser.
Avanti Finishes: Stainless Steel (F-529-7ANS) or Tuscan Bronze(F-529-7ANY), Configuration: 1 or 3 hole
Alina Finishes: Tuscan Bronze (F-029-4HYY) or Stainless Steel (F-029-4HYS), Configuration: 2 or 4 hole
Rembrandt Finishes: Stainless Steel (F-534-PARS), Configuration: 2 or 4 hole with soap dispenser; or 1 or 3 hole sinks without soap dispenser
How to Enter:

1. Visit Price Pfister and tell me which of the above four faucets you would choose for your kitchen!
Additional entries:
1. Blog about this giveaway and link to The Not-So-Blog and Price Pfister (10 extra entries).
2. Follow me (@BridgetteLA) and @Pfister_Faucets on Twitter and Tweet this giveaway. Every time you tweet you get an additional entry! Unlimited! (You must have over 50 Twitter followers to qualify for unlimited entries!)
3. Subscribe to my blog.
4. Become a Fan of The Not-So-Blog and Price Pfister on Facebook.
5. Place my blog button on your sidebar.
Contest ends at 11:59pm CST on March 10th. Prizes not claimed in 72 hours will be forfeited. Open to U.S. Residents only.
This review is the opinion of The Experimental Mommy. Other may have a different experience with the product. Thank you to Price Pfister for supplying the product for review. All opinions remain 100% mine.