PiggyBack Bandz will allow my girls to participate in the new bracelet craze and still show off their unique styles and individuality.
PiggyBack Bandz in Glam, Alphabet and Groovy plus two girls who love the stretchy bracelet look!  About the PiggyBack Bandz:
"Piggyback Bandz at first glance looks similar to many other band bracelets until you slide it on your wrist and watch it stand at attention, upright. Layer the bandz with one, two or a half-dozen more to create a word, a secret code, a design or whatever the imagination whips up. Then trade with your friends!
There are currently 8 Piggyback themes.  Choose from Glam, Football, Groovy, Sealife, Alphabet, Cool Rides, Safari and Extra Letters. Wear LOL with three bandz, display a glamorous ring or show off a racing car or football helmet. Whatever your personality, there's a band that fits!"
My two daughters have joined the shaped rubber band craze!  Santa brought a few packs in their stocking this year and we have entire bags of these accessories.  The only problem is that once you put on the bracelet, it is very difficult to tell what they are wearing?  Is it the princess?  The shoe?  The star?  Because it's nearly impossible to tell, many fights have begun between the sisters.  When I heard about PiggyBack Bandz, I was so excited to introduce them to my kids.
What's different about these rubber band bracelets?  You can actually tell what they are even when they are on the wrist!  Genius, right?  The company touts that this bracelet is "The Bandz that Stand!"  The bracelet is still shaped, but included a second piece that stands when worn.  For example, my daughter tried the Alphabet Banz and started searching through the letters to spell her name.  She quickly combined the letters and proudly wore her name which was displayed on the letters that stood up so everyone could still see what the bracelet was saying.  Just remember that if your name has two of the same letter, you need a second pack or the "Extra Letters" pack as well.  She was over the moon excited to wear her name around town!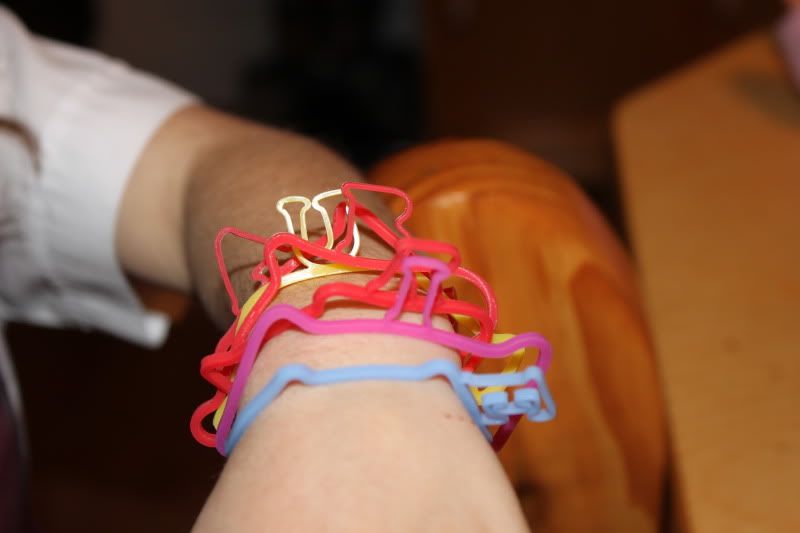 The PiggyBack Bandz are definitely different from all the other types of rubber band bracelets my daughters have in their collection.  This is the ONLY band that still keeps it shape when placed on the wrist.  The true testament is that both my daughters grab for the PiggyBack Bandz when accessorizing their outfits over any other band in their collection.
Buy It: Each pack contains 25 bands (26 in the Alphabet pack) and can be purchased at PiggyBack Bandz for just $4.95!
GIVEAWAY
Are your kids part of the rubber band bracelet craze?  One winner will be able to select FOUR packs of PiggyBack Bandz!

How to Enter:

1. Visit PiggyBack Bandz and tell me which four packs you would choose!
Additional entries:
1. Blog about this giveaway and link to The Not-So-Blog and PiggyBack Bandz (10 extra entries).
2. Follow me (@BridgetteLA) and @PiggyBackBandz on Twitter and Tweet this giveaway. Every time you tweet you get an additional entry! Unlimited! (You must have over 50 Twitter followers to qualify for unlimited entries!)
3. Subscribe to my blog.
4. Become a Fan of The Not-So-Blog and PiggyBack Bandz on Facebook.
5. Place my blog button on your sidebar.
Contest ends at 11:59pm CST on February 14th. Prizes not claimed in 72 hours will be forfeited. Open to U.S. Residents only.
This review is the opinion of The Experimental Mommy. Other may have a different experience with the product. Thank you to PiggyBack Bandz for supplying the product for review.  All opinions remain 100% mine.