The FoldTuk Roaster will be a great way to cook, store and serve a fabulous turkey without taking up valuable kitchen space with a bulky roaster!
One FoldTuk Collapsable Roaster in Red, a turkey breast, and a day in the kitchen with Dad.   About the FoldTuk Roaster:
"The Roaster (18 lb fowl and 20 lb roast capacity) by FoldTuk Kitchenware is another Cook-Serve-Store innovation able to withstand conventional oven temperatures up to 500F (260C). The clever elliptic cover can completely surround meat products and provide a moist, crispy, evenly roasted meal. The Roaster utilizes FoldTuk's renowned "fold and tuck" technology, which in function expands the pan and cover to a fully opened position of approximately 9 inches in height and provides convenient adjustable heights for refrigerators. Yet, amazingly, this enormous FoldTuk Roaster takes up very little kitchen storage space when the pan and cover are collapsed to a height of less than 3 inches."
Several months ago, I had the pleasure of reviewing a piece in the FoldTuk Bakeware line.  I loved it then, and I can honestly say that I love it now.  So, when I was asked to try the FoldTuk Roaster, I was all ears!  Up until now, I have not owned a roaster.  Our kitchen is fairly small, so finding a place to store a bulky roaster has been a deterrent from making the purchase.  However, when the FoldTuk Roaster arrived, the collapsable technology makes it easy to store.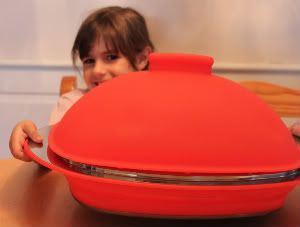 My husband and daughter cooked a turkey breast for dinner and it was absolutely amazing!  The roaster was very sturdy and easy to put in and take out of the oven.  After roasting, it can collapse to look like a platter!  Straight from roasting to serving and  leftovers can be stored in the same container!  After cooking, the roaster was easy to clean due to it's naturally non-stick surface (plus it is dishwasher safe) and quickly collapsed for storage.  I couldn't love it more!
Overall, I enjoyed using my FoldTuk Roaster. It was easy to use, easy to clean and easy to store (and at only 4.5lbs, it was easy to handle).  I am amazed at how much the product can hold while collapsing down to a small size perfect for my small kitchen.  The turkey came out moist and the design was pretty enough to place on the table for serving.  The roaster can be purchased directly in red, blue or black for $80.00.
GIVEAWAY
With the upcoming holiday season, could you use a meat roaster?!?  FoldTuk has generously offered one reader a Roaster in the color of their choice!
How to enter:
1. Visit FoldTuk and tell me another product you would love to try!
Additional entries:
1. Blog about this giveaway and link to The Not-So-Blog (10 extra entries).
2. Follow me (@BridgetteLA) and FoldTuk (@FoldTuk) on Twitter and Tweet this giveaway. Every time you tweet you get an additional entry! Unlimited! (You must have over 50 Twitter followers to qualify for unlimited entries!)
3. Subscribe to my blog.
4. Become a Fan of The Not-So-Blog and FoldTuk on Facebook.
5. Place my blog button on your sidebar.
Contest ends at 11:59pm CST on August 20th. Prizes not claimed in 72 hours will be forfeited. Open to U.S. Residents only.
This review is the opinion of The Experimental Mommy. Other may have a different experience with the product. Thank you to FoldTuk for supplying the product for review.