The V.Smile Motion will be a fun and educational way to introduce video games to my 4 year old while engaging not only her mind, but her body and creativity, too!
One V.Smile Motion Active Learning System by VTech (which comes with one controller and an Active Mania Smartridge), one very excited four year old little girl. About VTech:
"VTech, the creator of the Electronic Learning Products (ELP) category, is a world leader of age-appropriate learning toys.  Since 1976, VTech has been developing high-quality, innovative, educational products for children from birth to preteen that deliver "smart play" through the combination of entertaining electronic formats and engaging, age-suitable content that help children learn while having fun.
VTech Electronics North America, which is based in Arlington Heights, Illinois, is the sales and marketing office of VTech's ELP business in the United States. With headquarters in the Hong Kong Special Administrative Region, VTech designs, manufactures and sells its products via a strong brand platform that is supported by a well-established distribution network all around the world."
Even though the holidays are behind us, if your family is like mine, the gift giving season is far from over!  This month, my oldest daughter will turn five and she is just starting to show an interest in video games.  She has had other educational handheld gaming devices, but never a gaming console of her very own.  so, when I was contacted about reviewing VTech's V.Smile Motion, I had a feeling Lily would be on board!
Setting up the V.Smile Motion was very easy.  Beware that is does take 4AA batteries which were hard to find in my home after Christmas.  The console plugs directly into your television and includes one wireless controller (which can be configured for a child who is right or left handed).  I loved the fact that the controller was wireless because it allowed Lily to easily play the games without getting tangled in the wires.  The system also included an "Action Mania" smartridge which includes a few starter games.  Lily really enjoyed tennis and I was surprised at how fast she picked up on how to use the controller.  I also like that the games allow you to choose whether or not you want to play the game in "motion mode" or "joystick mode."  I found that while Lily liked playing the games in motion mode, she preferred the joystick mode for certain games like the designer section on her new Disney Fairies game (not included).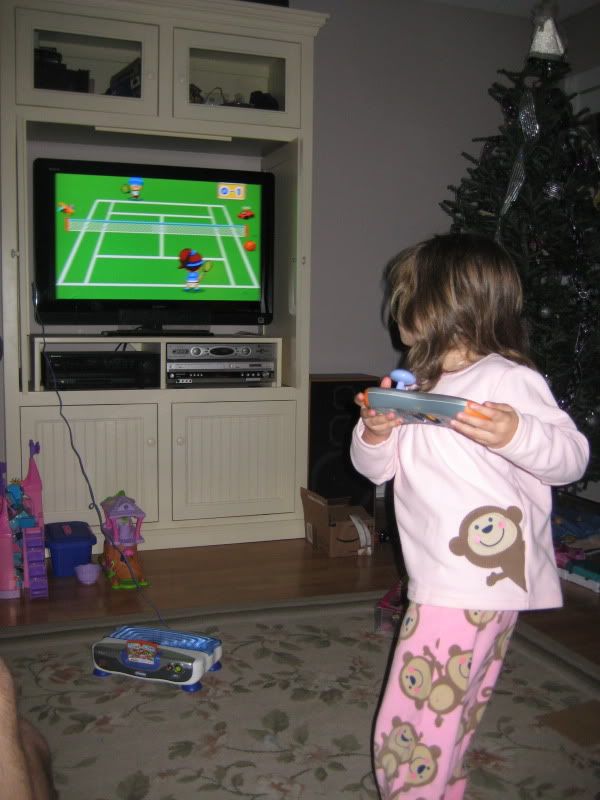 The V.Smile Motion Active Learning System was a hit in my home!  Lily enjoyed jumping, swinging and dancing as she played the smartridge games.  I love that while it is a video game, Lily was learning math and reading skills while still being active.  The V.Smile Motion is a great way to get out some energy on rainy or snowy days.
The V.Smile Motion is recommended for children ages 3-7 and can be purchased for only $59.99 (but I found the pink one on sale at Toys R Us for only $49.99!)!  There are games for just about any interest including Dora, Disney Fairies, Wonder Pets and Little Einstein which average between $20-$25.  I will definitely be on the look out for more Smartridges for Lily's birthday!  Anybody have the Princess and the Frog?
This review is the opinion of The Experimental Mommy. Other may have a different experience with the product. Thank you to VTech who provided the product for review. I was not compensated in any way except for the complimentary product and all opinions are my own.