The National Geographic Kids 2010 Almanac will be a book to introduce to Lily during our bedtime reading rituals while teaching her in a fun and exciting way!
One National Geographic Kids 2010 Almanac, my almost 5 year old daughter, and storytime.  About National Geographic:
"Dare to explore—from modern day adventures to close calls and narrow escapes. In this book, amazing animals take readers into the wild and into the water. Readers discover cultural connections from food, currency, literature and lots more from around the world.  Filled with maps, facts and more this book helps readers learn to go green and help our threatened earth!"
Reading has always been a very important part of Lily's bedtime routine since she was as young as 6 months old.  I actually think I enjoy it is as much as she does!  Snuggling up with her and reading a new story each night, and watching as she soaks up the will be something I miss as she gets older!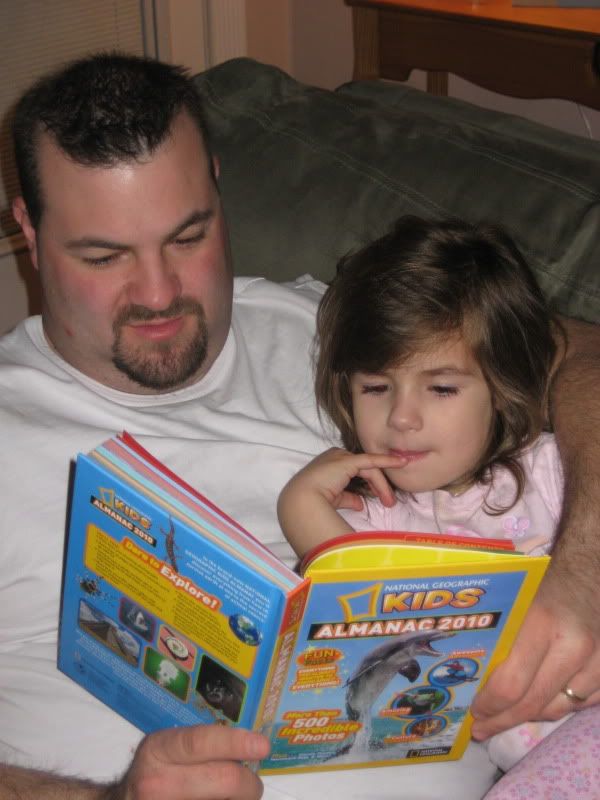 We are always on the lookout for new stories and books to read, and as Lily gets older, her taste in books is maturing.  So, I knew she would love the National Geographic Kids 2010 Almanac.  This hardcover book includes over 300 pages and 500 incredible photos which teach subject areas such as science, geography and history.
My husband is a history teacher, so he loves reading to her the sections on government, Presidents and First Ladies!  So far, Lily's favorite is the story about Barack Obama's two daughters.  Pretty soon, we will dive into the Science section!  The stories are written on her level and include many gorgeous photos which keep her attention and spark her quest for knowledge.
Lily loves picking out a short story to read with her Daddy before bedtime.  The National Geographic Kids 2010 Almanac is very well put together, speaks to children, and is absolutely beautiful.  This book would make a great keepsake for your child, or a welcome addition to any elementary school classroom.  The book (and other great National Geographic Kids Magazines) can be purchased directly for $19.95.
Would your child love an almanac of their very own?  National Geographic has generously offered one luck Not-So-Blog reader a Kids 2010 Almanac!
How to enter:
1. Visit the National Geographic store and tell me another product that catches your eye!
Additional entries:
1. Blog about this giveaway and link to The Not-So-Blog (10 extra entries).
2. Follow me (@BridgetteLA) and National Geographic Kids (@NGKids) on Twitter and Tweet this giveaway. Every time you tweet you get an additional entry! Unlimited! (You must have over 50 Twitter followers to qualify for unlimited entries!)
3. Subscribe to my blog.
4. Become a Fan of The Not-So-Blog and Halls on Facebook.
Contest ends at 11:59pm CST on January 27th. Prizes not claimed in 72 hours will be forfeited. Open to U.S. Residents only.
This review is the opinion of The Experimental Mommy. Other may have a different experience with the product. Thank you to National Geographic who provided the product for review. I was not compensated in any way except for the complimentary product.