The Snuggly Puppy Pillow Pet will be a great bedtime pal for my Aubrie, my 20 month old daughter, and will also make a great travel companion on the ride to and from daycare.
One Snuggly Puppy Pillow Pet, and one toddler is can't wait to find a bedtime buddy to snuggle and love!  About Pillow Pets:
"Pillow Pets are a pillow and a stuffed animal, snapped up into one. Made of ultra-soft, machine washable chenille, Pillow Pets transform from a standard size pillow into a friendly, warm and snuggly pet with one strap. Pillow Pets are available in 20 adorable animal varieties that live in the jungle, on the farm and in the sea. They make ideal naptime buddies, travel pals and all-around fun, furry friends.  Winner of a 2009 iParenting Media Excellent Product Award and the 2009 Dr. Toy Best Vacation Product Award, Pillow Pets are much more than a stuffed animal!"
My daughter, Aubrie, will be turning two soon and has entered the stage where she has become attached to several "security" items around the house.  A blanket, a teddy bear, and her paci are only a few items that she MUST have!  So when I was approached to review the Pillow Pet, I knew that Aubrie was the perfect candidate for this review.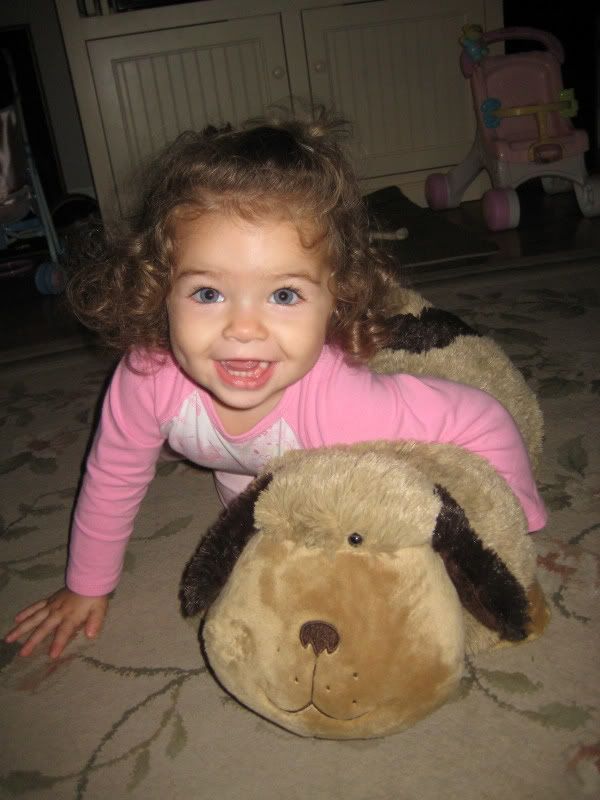 When the Snuggly Puppy Pillow Pet arrived, Aubrie immediately tackled the puppy and wouldn't let it go.  She pet the puppy for quite some time, and after feeling the puppy for myself, I really couldn't blame her!  It is incredibly soft!  After a few minutes, I released the Velcro and showed her that the puppy was also a pillow.  She watched in amazement and instantly dove onto her new pillow and said, "Night Night!"  Snuggly Puppy was a hit with Aubrie and she has yet to sleep without her new friend.
The Snuggly Puppy Pillow Pet is Aubrie's new best friend!  She loves to carry it around as a puppy and lay on it as a pillow.  I love that it is super soft and machine washable.  With 20 different designs, you are sure to find a pet that your child will adore!  And if you love the pillows, check out the backpacks and blankets!
Sold at very reasonable prices, the pillows, blankets and backpacks would make excellent holiday gifts or birthday presents!
Unfortunately, the Pillow Pets are unavailable right now due to high demand, but you can win one right here on The Not-So-Blog!

How to enter:
1. Visit Pillow Pets and tell me which blanket or backpack is your favorite!
Additional entries:
1. Blog about this giveaway and link to The Not-So-Blog (10 extra entries).
2. Follow me (@BridgetteLA) on Twitter and Tweet this giveaway. Every time you tweet you get an additional entry! Unlimited! (You must have over 50 Twitter followers to qualify for unlimited entries!)
3. Subscribe to my blog.
4. Become a Fan of The Not-So-Blog on Facebook.
Contest ends at 11:59pm CST on December 20th. Prizes not claimed in 72 hours will be forfeited. Open to U.S. Residents only.
This review is the opinion of The Experimental Mommy. Other may have a different experience with the product. Thank you to Pillow Pets who provided the product for review. I was not compensated in any way except for the complimentary product.