The support tank from Moving Comfort will provide a comfortable garment for me to wear during exercise without having to wear additional support which ads bulk and restricts movement.
One Alexis Support Tank in Plum Secret Garden from Moving Comfort and a Mom that is excited to have comfortable clothes to get moving in!  About Moving Comfort:
"The how doesn't matter: running, walking, weight training, yoga, martial arts, skiing, snowshoeing, rock climbing, horseback riding, golf, tennis, basketball, volleyball, soccer, inline skating…we naturally understand and design clothes for a woman's body, whatever that body was meant to do. We encourage women to never feel limited by anything.

We understand the kind of support and freedom needed in clothing, and how that clothing should feel against the skin. We know what keeps women warm and dry when it's cold and cool and dry when it's hot. Knowledge, expertise and high standards shape the fit, fabric and function of every garment we design. Our care and unwillingness to compromise is what makes our products high quality and reliable.

Keeping fit improves every aspect of a woman's life: reducing the incidence of heart disease, breast cancer, osteoporosis, depression, teen pregnancies, dropouts, and drug and alcohol abuse. If a girl or woman is more comfortable when she's working out, she's more likely to keep at it. That's why we view our technically superior garments — and great fit of each piece — as a means to encourage women to get fit and stay fit.
The important thing is that every woman finds her Moving Comfort.
For the past few months, I have been sticking to the Weight Watchers Momentum Plan and trying to get active to increase my weight loss.  In addition to running after my two young daughters, I teach an advanced adult tap class as well, so there is always a time when I need comfortable activewear.  Trying to find  a bra to wear that adequately supports and doesn't stick out of my activewear has been a challenge…and I am NOT a fan of layering.  So, when I was asked to review the Moving Comfort solution, I knew it could definitely serve it's purpose in my life!
The Alexis Support Tank is just what I need!  This modified racer-back tank has lightly padded support, shaping and modesty, mesh at high sweat areas, stabilized straps and a racer-back design for comfort and full range of motion.  I was completely impressed by the construction and design of this support tank!  Check out the inside which is much more than your standard "shelf-bra!"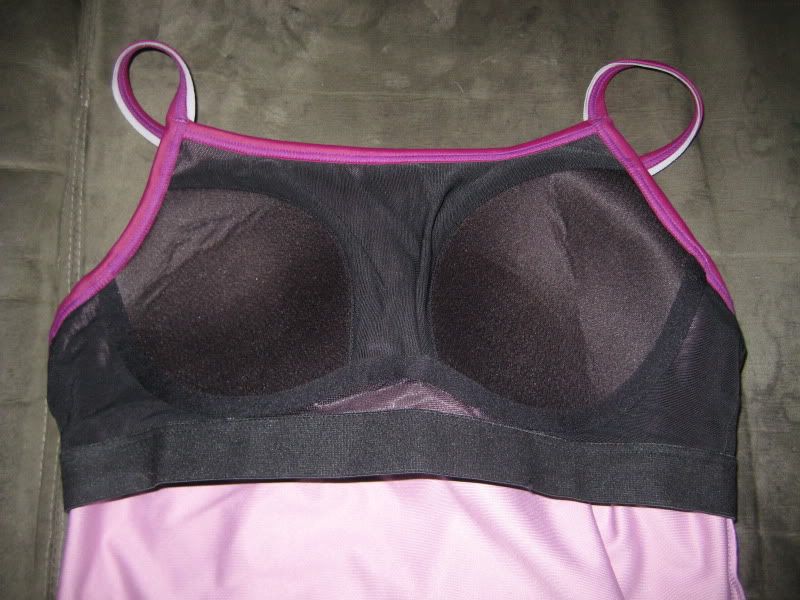 The tanks are fitted by bra size and while I was on the smaller end of a Size Small and expected the top to be a bit big, it fit perfectly. So, when ordering, I would be generous with size.
I love the Alexis Support Tank from Moving Comfort!  The support is perfect and I do not have to layer a sports bra underneath this tank which makes me VERY happy!  This tank would be perfect for my dance class, a yoga class, or even jogging!
Take a minute to check out the other products sold by Moving Comfort including sports bras, capri pants, and gym bags.  Not sure which bra is the best for your needs or your body?  Check out the handy bra finder!
Need a gift for your workout enthusiast?  Make sure you shop at Moving Comfort for the ultimate in quality activewear for women!  Even better, the people at Moving Comfort have generously offered one Not-So-Blog reader their very own Alexis Support Tank!
How to enter:
1. Visit Moving Comfort and tell me one item you would love to wear to the gym!
Additional entries:
1. Blog about this giveaway and link to The Not-So-Blog (10 extra entries).
2. Follow me (@BridgetteLA) on Twitter and Tweet this giveaway. Every time you tweet you get an additional entry! Unlimited! (You must have over 50 Twitter followers to qualify for unlimited entries!)
3. Subscribe to my blog.
4. Become a Fan of The Not-So-Blog on Facebook.
Contest ends at 11:59pm CST on December 31st. Prizes not claimed in 72 hours will be forfeited. Open to U.S. Residents only.
This review is the opinion of The Experimental Mommy. Other may have a different experience with the product. Thank you to Moving Comfort who provided the product for review. I was not compensated in any way except for the complimentary product.