**Notice!  This giveaway has been extended until 11:59pm CST on June 14th.  The initial entry requirements have changed for the Ju Ju Be bag.  If you have previously entered (before June 3), your entry WILL count, but you may gain an extra entry by signing up for Let's Go Strolling newsletter! **
The hosts of Day Two of the Gear Up for Summer Block Party are none other than yours truly and Karen from 3 Garnets and 2 Sapphires! Karen is giving away a $15 gift card to RoxStar Designs and a Tracey Singer Kids CD!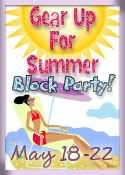 If you have plans to head to the beach this Summer, you have GOT to see this bag!  The WannaBe from Ju-Ju-Be can be purchased from Let's Go Strolling and is probably the most perfect beach bag I have ever seen!
From Let's Go Strolling:
"Ju-Ju-Be has thought of all the essentials you will need while soaking up the sunshine and has created a tote with spaces for all of them. Need a towel? It attaches easily to the bottom with built in towel holder elastics. Want your ipod? There's a pocket for that too. Best of all the SandTrap allows you to take everything you brought with you without the sand you didn't!"
Some of my favorite features of this bag are the towel holder on the bag for super-easy access and the incredible sand trap!  The bottom of the bag unzips to let all the sand fall out while your things are held in with a mesh liner.  Pure genius!  This is organization at it's finest!
Check out the inside:
Let's Go Strolling has generously offered one Not-So-Blog reader the Ju-Ju-Be BeMine bag,  This wristlet holds all of your essentials when a larger tote isn't needed.  Great for a quick trip to the park or grocery!
So, the WannaBe and BeMine bags are great for summer outdoor activities, but what happens when it  rains?  Be sure to have some fun activities on hand to entertain the kids!
Who doesn't love Play-Doh??  The kids (and Mom, too!) can have hours of fun making a yummy Play-Doh spaghetti with The Spaghetti Factory!
From Hasbro:
"Pretend pasta playset lets you create PLAY-DOH-style pasta covered in all of your favorite "toppings!" Mold "meatballs," "veggies" and more "PLAY-DOH-licious" toppings! Playset comes with more than 25 half-molds, a playmat, fork and spoon accessories and 4 three-ounce cans of compound."
Here at The Not-So-Blog, you can win a prize pack including BOTH a Play-Doh Spaghetti Factory AND a Ju-Ju-Be BeMine bag from Let's Go Strolling!
How to enter:
1.  Visit Let's Go Strolling and sign up for their newsletter.  Visit Play-Doh and tell me which other item you would love to have for Summer!
Additional entries (please leave each entry as a separate comment):
1.  Subscribe to my blog
2.  Follow me on Twitter and tweet this giveaway.
3.  Become a Fan of The Not-So-Blog on Facebook.
4.  Visit the other stops on the "Gear up for Summer" Block Party and receive an extra entry for every other contest you enter (9 extra entries total).
5.  Blog about this giveaway and link to The Not-So-Blog.
Contest ends at 11:59pm on May 31st.  Prizes not claimed in 72 hours will be forfeited.  Open to U.S. Residents only.