Lily is finished with her very first year of school, so now it is time to
Gear up for Summer!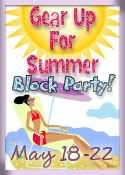 I am teaming up with 9 other fabulous blogs to bring you one entire week of unbelievable summer giveaways that you DO NOT want to miss!  Make sure you come back every day this week because I will be pointing you in the direction of TWO fabulous giveaways a day.
To kick things off, Renee from What Mommies Need is giving away a brand new Vado pocket video cam!  Go check out her incredible review and enter to win one for yourself.
The second giveway on today's Block Party is from Sarah at Ohana Mama.  Sarah is giving away a Skitter ride on toy! I know my daughter would LOVE this!
Don't forget to check back tomorrow to see what prizes you can win on Day 2 of the Gear up for Summer Block Party!