Are you having fun at the Block Party??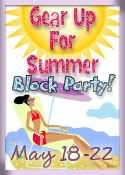 I am teaming up with 9 other fabulous blogs to bring you one entire week of unbelievable summer giveaways that you DO NOT want to miss! Make sure you come back every day this week because I will be pointing you in the direction of TWO fabulous giveaways a day.
Today, join the party over at Mommy Goggles, where you can cool down with Tanya in a Sun Smarties Pop-up Pool by One Step Ahead! 
After you are done there, hop on over to Life Starring Ellie and Eve where the kids can have lots of fun with a Step 2 Sand and Water Table!
Don't forget to check back tomorrow to see what prizes you can win on the final day of the Gear up for Summer Block Party!