Are you having fun at the Block Party??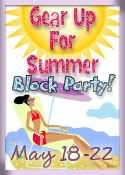 I am teaming up with 9 other fabulous blogs to bring you one entire week of unbelievable summer giveaways that you DO NOT want to miss! Make sure you come back every day this week because I will be pointing you in the direction of TWO fabulous giveaways a day.
The party is over at Shannon's Potamus Prefers, where you can win a women's swimsuit from SlimPerfect Swimwear!
After you are done there, hop on over to Cool Baby Kid.  Cecilia is giving away Jublo Sunglasses and a $100 gift card for kid's swimwear!
Don't forget to check back tomorrow to see what prizes you can win on Day 4 of the Gear up for Summer Block Party!