This is it!  The final day of the Block Party!  Thank you all for joining us!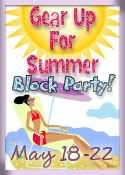 I am teaming up with 9 other fabulous blogs to bring you one entire week of unbelievable summer giveaways that you DO NOT want to miss! Make sure you come back every day this week because I will be pointing you in the direction of TWO fabulous giveaways a day.
The party is only just beginning over at 3 Kids and Us where Cat is giving away a $20 gift card to Piggy Paint!
And the final stop on the Block Party is way up in Alaska at Blessings Abound!  Jacqueline is ending things with a bang by giving away THREE prizes!  Win a gift card to Layers Clothing, an apron from Carolyn's Kitchen and Butterfly Beach Sandox and Wading Pool from Little Tikes.
All of the block party giveaways will be running until AT LEAST May 31st.  Make sure you enter them all! Thanks for partying with us!