Sometime soon after becoming a Mom, my obsession for the newest purses and accessories turned into an ongoing search for the best diaper bags and baby products.  I always look for bags that are fun and don't scream MOM, but are functional for my baby items.
If you are also on the search for handmade, high quality, beautiful and functional diaper bags with matching accessories, you must head on over to Hedvig Bourbon!  The Lucas Diaper Bag and Stroller Tote has a unique strap design that hooks around the handles of all strollers.  A leather strap converts the diaper bag with an easy switch from a stroller tote to an over the shoulder bag and there are several pockets to help you stay organized.  Perfect bag for fashionable Moms!
Another product I loved from Hedvig Bourbon is the Amelie stroller liner.  I have honestly not seen another product like this, but I think it is ingenious!  The stroller liner is designed to fit the harness of most strollers and creates a clean and cozy environment for your baby while they ride in the stroller.  The reversible liner is 100% cotton terry velour on the front and cotton canvas for the back lining and borders in print fabric matching the diaper bag selection and other accessories.
I was fortunate enough to receive the Judabee pouch in turquoise for review.  The pouch is perfect for those quick diaper changing trips while we are out and about.  From the website:
"The Judabee pouch opens up revealing two pockets for diapers and wipes.  Designed with a wrist handle it is the perfect little pouch to carry separately or include in your bag when only diapers and wipes are needed for the trip."
It is very obvious that the pouch is well made.  You can honestly feel that the fabric is high quality and the design is beautiful.  I was able to fit three diapers on one side and a portable wipe container on the other.  The handle is perfect to slip on your wrist and go!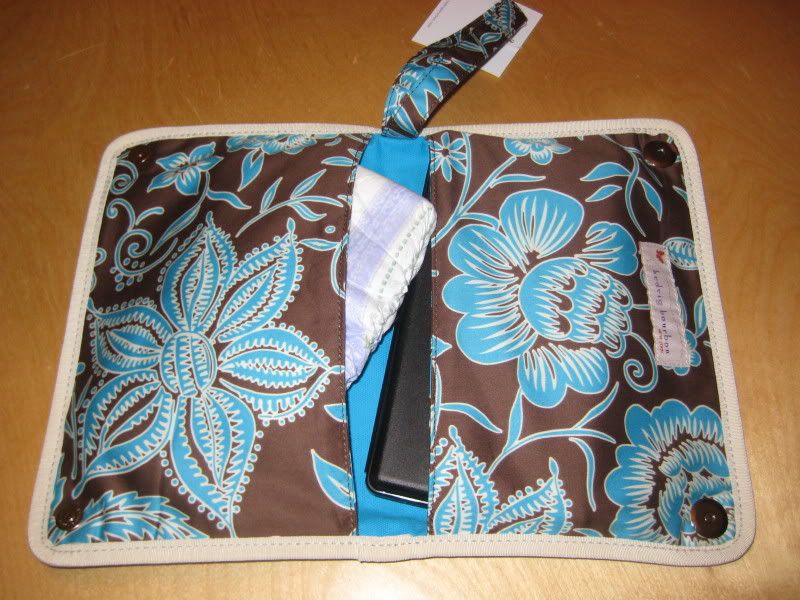 Want to try a handmade product from Hedvig Bourbon?  They are offering a 20% discount to all of The Not-So-Blog readers!  Simply email sales@hedvigbourbon.com after purchase and enter the code "notsoblog".  Your 20% discount will be applied as a refund.