You are cordially invited to join me and Renee from What Mommies Need along with 8 of our favorite blogs for a "Gear Up for Summer Block Party!"  From May 18-22, each blog will point you in the direction of the party to win a fabulous Summertime giveaway each day! We have everything from Swimsuits to Sunglasses to help you gear up for Summer!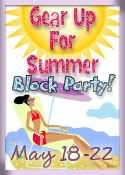 Grab one of our Block Party buttons and place it on our sidebar so you will be ready to party!   The blogs on the Block Party are:
Cool Baby Kid
Life Starring Ellie and Eve
Ohana Mama
Potamus Prefers
3 Kids and Us
If you would like you product featured during our Block Party as a giveaway, please email me at notsoblog at gmail dot com!  Your link will appear on ALL 10 BLOGS!
Hope you can make it!