This is my dog, Callie. She is mostly a beagle and is completely overweight (due to medicine she takes for her seizures).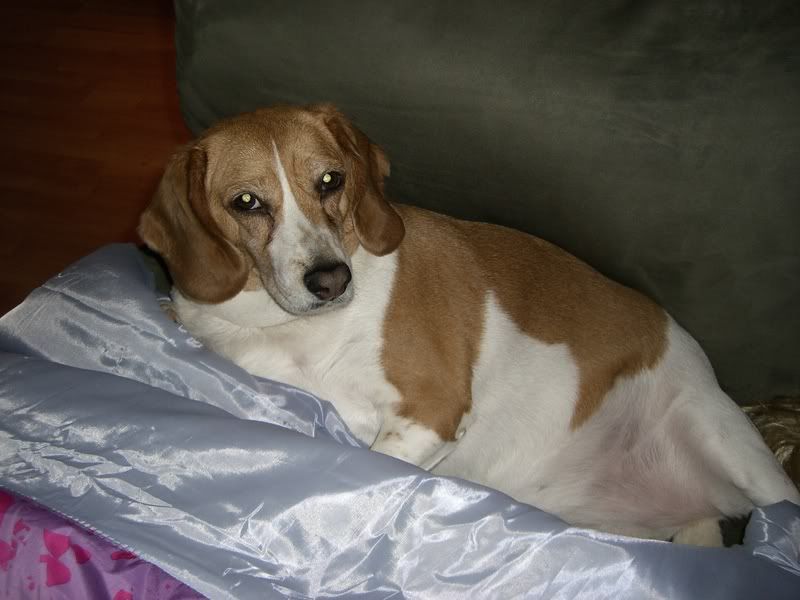 A few things you should know about Callie:
1. She sheds.
2. She is not allowed to get on the sofa.
3. She is stubborn.
4. She does NOT listen (as you can see in the above picture).
I can tell when Callie sneaks a nap on the sofa because it is covered in dog hair. I despise vacuuming the sofa…..seriously….worst.chore.ever. So, I was more than thrilled to try out the new Pledge Fabric Sweeper for Pet Hair!
How it works: Simply slide it side to side in short strokes. Rollers rotate back and forth to lift and trap unsightly pet hair. One Pledge™ Fabric Sweeper picks up as much pet hair as 145 sticky roller sheets.
Great for:
Upholstered couches and chairs—so you can sit back and relax.
Pillows and cushions—Pledge™ Fabric Sweeper is great for removing pet hair from throw pillows, couch cushions, and bed pillows.
Car interiors—great for cleaning pet hair off upholstered car seats so you can roll down the window, without stirring up pet hair.
Directions for use:
Slide side-to-side on upholstered furniture using moderate pressure. Use short strokes of about 8-12 inches in each direction (as indicated by the arrows on the sweeper).
Fabric Sweeper is self-cleaning! As you go in one direction, one roller picks up the pet hair from the surface. When you go in the other direction, the second roller cleans off the first and pushes the pet hair inside.
If pet hair builds up on the rollers, repeat the side-to-side motion a few times on a clean area of the upholstery.
My first impression of the Fabric Sweeper was that it looked too good to be true! This little thing can't possibly work as well as my vacuum! Once I managed to wake up Callie and get her off the sofa (did I mention that she doesn't listen?), I tried it out and was more than pleasantly surprised. By simply moving the Pledge Fabric Sweeper from side to side, I was able to quickly remove all of the pet hair from my microfiber couch! I am in love! I no longer have to drag out the heavy, bulky vacuum for quick touch ups!
Don't believe me? Try it for yourself!
How to enter:
1. Visit Pledge and let me know one other product that would make your life easier!
Additional entries:
1. Blog about this giveaway.
2. Follow my blog.
3. Follow me on Twitter (BridgetteLA) or tweet this giveaway.
4. Favorite me in Technorati.
Contest ends at 11:59PM CST on February 18 Prizes not claimed in 72 hours will be forfeited. Open to U.S. Residents only.
This post was written for the Family Review Network as part of a program by SC Johnson, who also supplied the product for review and giveaway.