What are the colors of Mardi Gras and what do they represent? What is a King Cake? What are Krewes? Has Mardi Gras ever been canceled? Why are coconuts a coveted "throw?" How are the royalty chosen?
If you've always wanted to learn about Mardi Gras, you've come to right place! My friend Renee over at What Mommies Need, and I are both native New Orleanians. Mardi Gras is a way of life for us! Some of my earliest memories are on the parade route. It was here that my Grandmother taught me to stomp on doubloons and never reach for them with your hands first (all of my New Orleanian readers are probably shaking their heads in agreement right now)!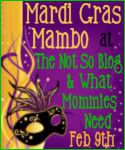 Renee and I will be dual hosting the "Mardi Gras Mambo" giveaway series beginning on Monday, February 9th! Each day, we will bring you fun facts about one of the Krewes as well as a coordinating giveaway! You may enter the giveaway on BOTH of our sites which will give you DOUBLE the chances to win (aren't we nice?). We will combine our entries for each giveaway and choose a winner randomly.
Are you ready to party? Make sure you grab our adorable giveaway button (made by Cat over at 3 Kids and Us) and place it on your sidebar so you will be ahead of the game on Monday (and if you really love us and want to help out, please blog about our giveaway!). Can't stand the anticipation? Get a sneak peek at some of our sponsors on my left sidebar under "Mardi Gras Mambo Sponsors" and visit their sites!
Make sure you come watch our "Parade of Prizes" starting on Monday! You never know what you might catch!