The Not-So-Blog is always looking for fabulous, incredible, not-so-ordinary items to share and promote! Interested in being featured with a product review and/or giveaway? I've made product submission faster and easier with a "Review me, please!" form! You can find the form embedded in the Contact Me page or under the PR button on my left sidebar.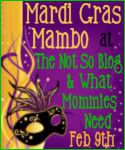 I am also currently looking for sponsors for my next giveaway series, "Mardi Gras Mambo" which will be co-hosted by my friend, Renee at What Mommies Need. Starting February 9th, we will be bringing you some interesting facts about the Mardi Gras Krewes that parade in the New Orleans area. Each Krewe will have an associated giveaway to help celebrate Fat Tuesday and get the bloggy world screaming,
"
Throw me somethin', Mista!
"
Giveaway items need not be Mardi Gras related. Sponsors will have their 125×125 button placed on our left sidebars for the entire month of February. Contact me at notsoblog@gmail.com if you are interested!