Thanks to everyone who participated in the "4 You Birthday Bash" here and at MomDot in honor of Lily and Charlotte's 4th birthday! We had great participation and are ready to announce the winners!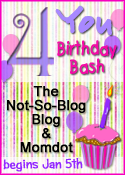 Drumroll, please!
Day 1: Ring Sling from Christy's Creations: Jessica NBP/MCC
Day 2: 1st Birthday gift set from Embelyish Gifts: Sara (candyskysaviorgirl)
Day 3: Photogreetings custom invitation design, Pinata from Birchangel and Birthday flags from Blackbird LetterPress: Kim
Day 4: Legwarmers from Leg Huggers and sunglasses from EyesCream Shades: Mrs. Mommy
Day 5: Doodlebag from The Paisley Pear: icefairy
Day 6: Shampoo and conditioner from Petit: mom2anutball
Day 7: T-shirt from Silly Monkeez: Maggie
Day 8: Shoes from See Kai Run and bracelet from Rare Designs Jewelry: Ashley
If you provided an email address, I will be sending emails shortly. If you did not, please contact me at notsoblog@gmail.com within 72 hours to claim your prize!