I admit it. I am a label FREAK. With one daughter in daycare and one in Pre-K, I label everything….and the labels MUST be cute (durable comes in a close second, LOL!). A black sharpie just will NOT do.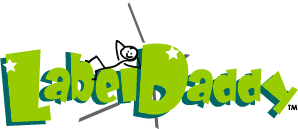 Apparently, I am not the only one! Two men were inspired to create Label Daddy soon after becoming parents themselves. They would often hear many fellow parents complain that too much time was spent labeling and re-labeling clothes and other items that their children took to camp or school with so-called permanent markers that often faded in the wash. They realized this was the moment they had been waiting for, the opportunity to use their respective business experience to create a stylish, adorable, and extremely useful product. A product that would be easy to use, time efficient for mom, durable for dad, inexpensive for both and very personalized.
Recently, I had the opportunity to test out the small All-purpose labels from Label Daddy! This company carries labels of every kind and they are microwave, dishwasher and washer/dryer safe! These labels are perfect for bottles, sippy cups, spoons, clothing, sports bags, etc.
I chose to get Aubrie's name on some lavendar labels. I used them on her bowls that I send her cereal in to daycare. So easy! I had previously labelled the bowls with a Sharpie and it washed off in the dishwasher, so I decided to try this out on my "sterilize" cycle in my dishwasher.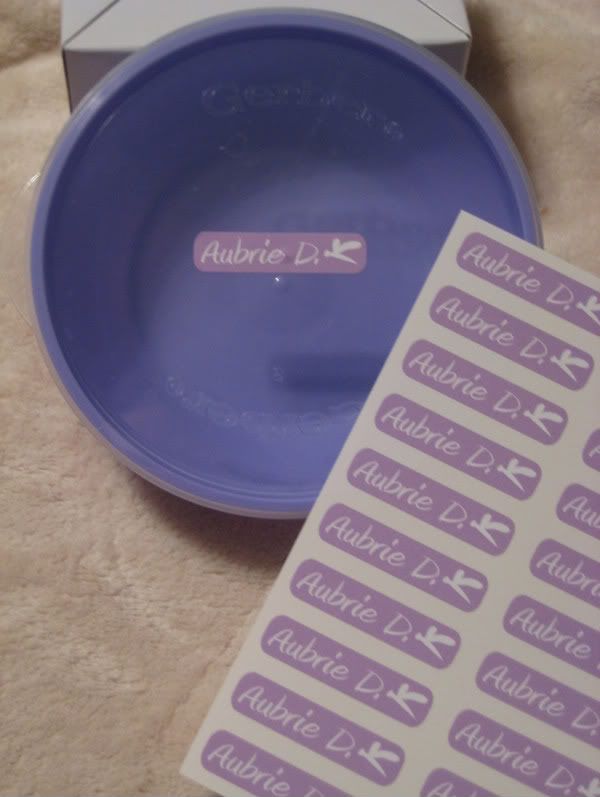 As you can see, the label stayed on! Functional. Durable. Washable. Reasonable. I'm SOLD!
Have some things that are just begging to be labelled?? Want to try them now? Use the code Daddy5 to receive 10% off your order! Label Daddy has also generously offered one lucky reader TWO packs of the small all purpose labels in your choice of color!
How to enter:
1. Visit Label Daddy and tell me what color you would choose if you won!
Additional entries (please leave each entry in a separate comment):
1. Blog about this giveaway.
2. Subscribe to my blog.
3. Follow me on twitter (BridgetteLA) or tweet about this giveaway.
4. Favorite me in Technorati.
5. Visit Label Daddy's blog and comment on one of the posts and receive and extra entry here!
Contest ends at 11:59pm CST on December 8th. Prizes not claimed in 72 hours are will be forfeited. Contest open to U.S. Residents only