Happy Birthday to you, Happy Birthday to you, Happy Birthday dear…..
Lily and Charlotte
Happy Birthday to you!!
The Not-So-Blog and MomDot will be partnering up to host the "4 You Birthday Bash" in honor of our daughters' Fourth Birthdays!

On January 5th, we will be kicking off the party with some awesome birthday themed giveaways! Each day, a new giveaway will be posted on both blogs. Follow the instructions on the post which will direct you to party place of the day where you can enter to win!
Can't wait till January 5th? You can catch a sneak peek at a few of our sponsors on my left sidebar! While you're here, go ahead a grab a giveaway button (thanks, Kim), so you will be ahead of the game.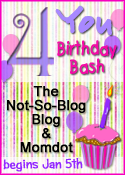 Want to attend the party? Leave a comment to RSVP!