Ready? Get Set. Go!!
And we're off!! It's time to shed that baby weight. And yes, with MAJOR reluctance, I am posting my first picture of me on the scale. Like I said before, I think the Weight Watchers meetings were successful for me because there was that element of accountability to someone else. So, you guys get to be that "someone else!" Aren't you lucky?! LOL!
A little background: I am 5'3″ with a fairly petite frame. Before I got pregnant, I was 118. I gained 40 pounds during the pregnancy. Ideally, I need to be 113-115 pounds.
So here goes…..ugh…..am I really going to do this??
( I put on socks to spare you all the fact that I have not had a pedicure in quite some time! LOL!)
So, there ya go. I need to lose about 11-13 pounds. To complete my weekly task, my reasons that I CAN include my two girls. I want to live a healthy lifestyle in order to instill these behaviors in them.

Need some motivation this week? I have lined up a GREAT prize! Shelley from RasCat Designs has donated this turquoise aWRISToCAT weight loss bracelet!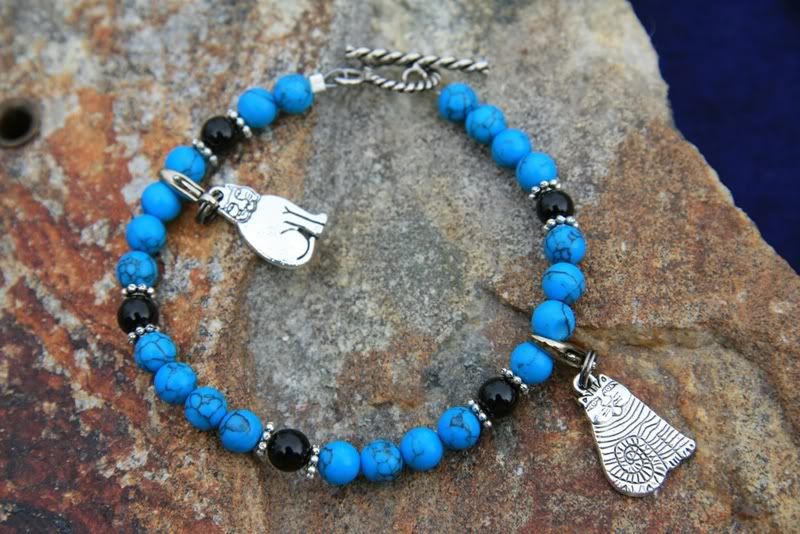 What is a weight loss bracelet?
Tired at the end of the day trying to remember the number of what you were trying to TRACK or having to write it down numerous times during the day? Now you can attain you goals by tracking on your "aWRISToCAT" tracking bracelet!
What To Track:
Points on your weight loss program
Ounces of water
Fat Grams
Carbohydrates
How it works: Put your charm at the first stone/bead of your bracelet and move the charm each time you need to count. For example, I use mine to track the ounces of water I drink each day. Each bead counts for 2 ounces of water and each time I drink water, I move the charm the appropriate number of beads. Each bead can also count for 1 point on your weight loss program or whatever increment you like. At the end of the day, you know exactly where you are in meeting your goal!
Good Luck this week! Check in next Thursday and sign the "Shrinky Linky" in the Week Two post if you have attained your goal for this week. A winner will be selected via Random.org from those names in the Shrinky Linky ONLY! Need to refresh on the rules? Click here.