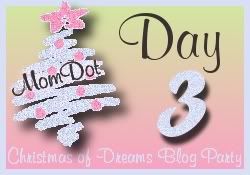 Well, today is actually my turn to host a Blog Party Day over at MomDot, so forgive me if this is rather redundant.
Day 3 of the Christmas of Dreams Blog Party is sponsored by Appledonia, Hippos Toes and My Bag. I have actually had the opportunity to work with Appledonia and Hippos Toes on The Not-So-Blog and they are both fabulous companies! Consider all of the sponsors when you are preparing your Christmas list!
Speaking of shopping, can you believe that Christmas is only 40 days away? Every year I plan to get a jump on my Holiday shopping, but it seems like every year Christmas sneaks up on me! Did they move it? Its still December 25th, right?
This year, more than ever, I am having to put a spending limit on shopping. Our bills have skyrocketed and with the addition of a second child, our budget is extra tight. Last January, I started a Christmas savings account and religiously deposited any extra cash into this account. I am going to withdraw all of this money and pay for ALL of our Holiday purchases in CASH. In order to achieve this, I plan to make a list of all of the gifts we must purchase and draw up a budget for each present. I am hoping this will help us keep Christmas under control!
So, what about you? How do you budget for the Holidays? Do you always stick to your budget?